Hello everybody, welcome back to Crafty Time 4U! I hope you had a great week and that your weekend stared with a smile.
Let me show you the card that I created for today's post, and I'll be telling you a little bit more about it. As always all the supplies are listed and linked bellow for your reference and convenience.
I have lots of fun coloring this image. There are so many things you can do with it! I colored it using Copic Markers and I added some dots of white gel pen to some areas of the clown clothing!
There is not right or wrong way to color a clown, therefore, you can used any color combination or mismatch of striped and dots, or such. I didn't used the balloon edge from the Dienamics Blueprints 26, I used a regular balloon die that I have on hand,however I listed the "Blueprints 26" for your reference, since my Ballon die is very old, and couldn't find it on any store.
I used some twine to attach the balloon to the clown's hand, and as finishing touch I used some Pretty Pink Posh sequins.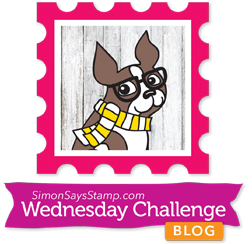 I want to enter this card to the Simon Says Wednesday Challenge "Sparkle and Shine"
I used my favorite finishing sequins, the "Spakling clear," the "pink peonies," and the "aquamarine" by PPP
Copic Marker I used: RV02, RV04, RV09, R20, B00, B02, B05, YG03, YG05, E00, E02
I hope you had enjoyed this card and that you'll get inspired to try this adorable stamp set. Have a wonderful weekend!
Supplies:
I am affiliated to Amazon (
I receive a commission when products are purchased through links here at this blog at NO additional cost to you.)
Thanks

so much for stopping by, I'll see you soon with more Crafty Time 4U!